A pavilion and tunnel is designed and executed for the Sarvoday Parivar trust's school in Khadki village, near Valsad. The school is located in a remote tribal village, and the buildings were thus built with the intent of demonstrating the uses of bamboo as a construction material to the villagers. With the decline of wood as a construction material in the region, the trust has been promoting Bamboo plantations as an alternative building material and also means of further livelihood through craft.

The pavilion is designed as an semi-open shed for children to play and teachers to conduct classes in the open. It is split into two levels responding the site, the upper level is designed with bamboo benches for visitors to sit and enjoy the view to the river. The plinth of the pavilion circles around existing trees, to keep the area shaded under the existing tress, modulations and steps add to the mode of play with many levels for children to access. The tunnel on the other hand is made as a split bamboo arched structure, covered with mud and then ferrocement. It offers a landscape for children to play inside as well as over the structure. All bamboo details and joints are kept extremely simple and indigenous, allowing locals to easily replicate. Various plastering samples were also experimented over the course of the workshop to find the most long-lasting plaster on bamboo. Surrounding areas of the garden are designed with waste tyre play equipments. View construction process of the building by clicking on this link.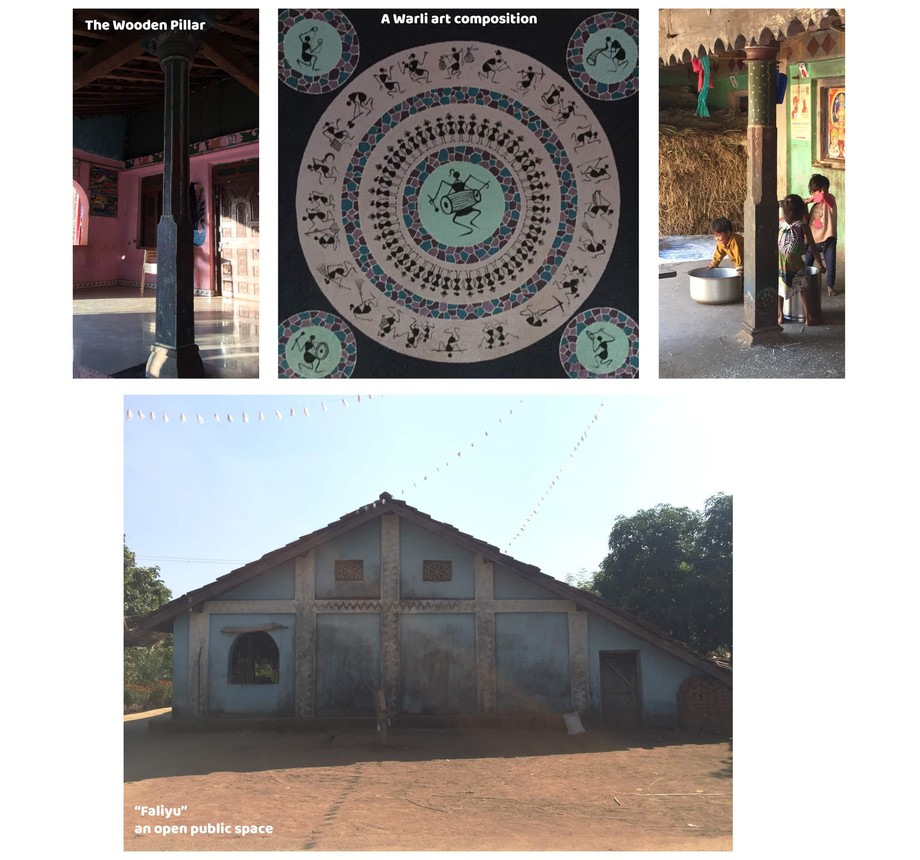 A public installation is envisioned in the village, as an interactive intervention emerging from the cultural and social practices of the people. Through primary interviews with villagers and key people in the village, the cultural landscape and daily life of people was understood to have strong associations with the geographical context – natural landscape, ancient tribal culture – and rituals, forming belief systems ingrained in the community. Most of the associations clearly reflected in their agriculture practices, daily living activities, and their mystical spiritual traditions.

Learnings from the vernacular designs of houses and practices, and use of Warli art practiced by last few artisans, 'The Warli Zoetrope' was proposed as an interactive installation. Zoetrope is an instrument used to create animations with a series of photographs or images, perceived as if in motion. The Warli art is drawn in a manner to generate the phases of motion, while rotating the zoetrope it simultaneously also plays sounds of the story depicted in the animation.