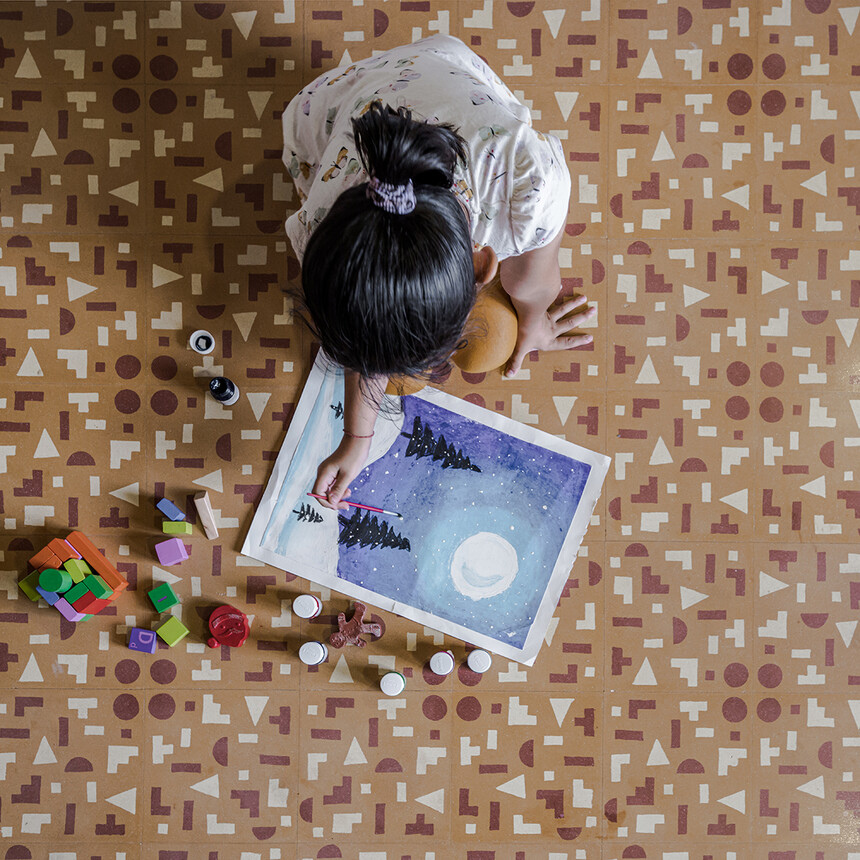 A house designed as a composition of frames, a walk and a pause, a dash and a dot. The dot and dash are not only used as abstract design elements in the compositions, but they also metaphorically relate to the various spaces of pause in the house.

In this penthouse, the living, dining and kitchen are designed as an open plan, separated by delicate woven cane screens which merely create a sense of division, rather than creating opaque partitions. When one enters, they experience a series of these screens, maintaining the privacy of the residents from the visitors, and as one walks in, the space opens up into the living room, which is flooded with natural light. It is designed to be a warm space with light furniture and a seamless kota stone flooring. Below the center table, there are bharat tiles, laid down like a carpet on the floor, hence becoming the central element in the room which guides the organization of all the furniture around it. The furniture can be moved around in the room to create various organizations according to clients' necessity.

The dining space is hidden behind another cane screen and beyond that, a narrow passage leads to three other bedrooms. Yellow ita gold marble is used to highlight various spaces in this open plan. The kids room also has yellow bharat tiles in the center and kota stone around it. All the furniture is designed in teakwood, which compliments the natural stone flooring in the lower floor.

On the upper floor, there's a large room which is designed as a master bedroom. A composition of various earthy textures guides the design. This bedroom opens out to a large terrace which has a brick platform and lots of plants.
Photography credits- Murtaza Gandhi
Artwork- Manali Mehta Jethwa
Carpentery- Amit Gajjar and team
Civil Contractor- Dwarkesh bhai and team