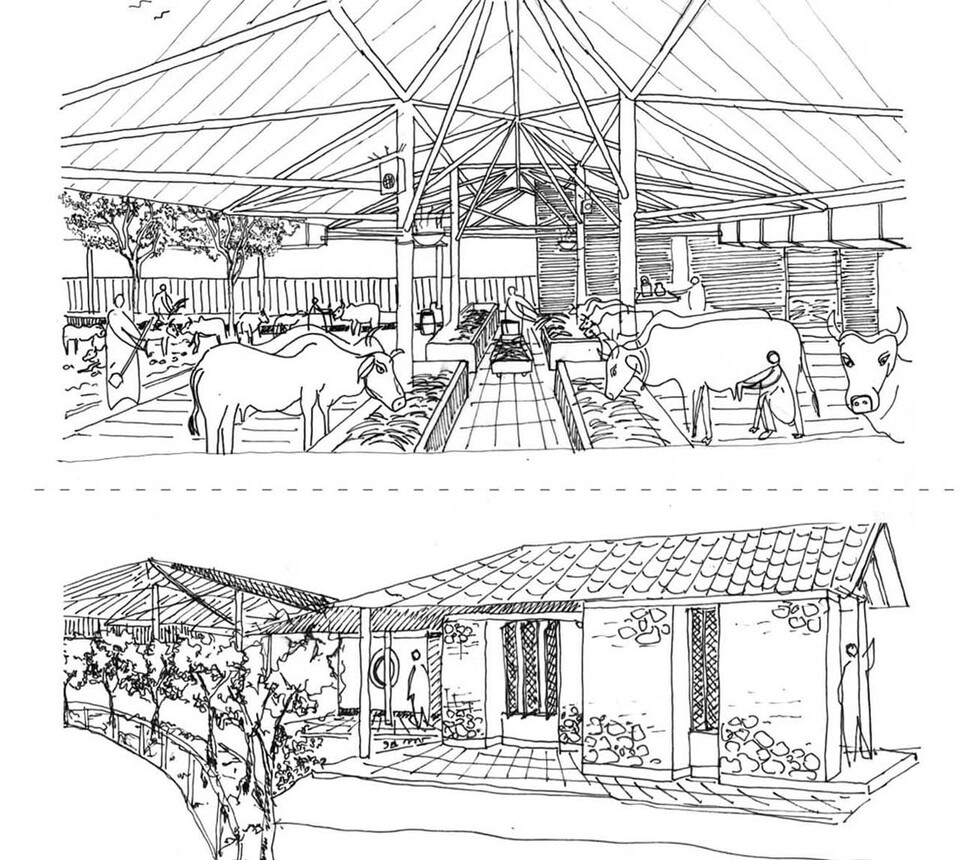 A well designed cattle shelter which is sensitive to the cattle with efficient space management, circulation, drainage and ventilation systems is an integral part for cattles' health and milk yield.

The project is located in Surendranagar district of Saurashtra region of Gujarat. This is a cowshed designed for 80-85 cows along with ancillary facilities. The cows were to be divided into milking cows, non-milking cows, pregnant cows, calves and bulls. The existing site condition and the divisions amongst the cows guided the layout of the gaushala. The space is designed considering the efficiency of flow of inlet food materials for the cows and removal of organic waste from cow feces and urine. The systems to collect organic waste and milk and convert it into usable products are incorporated in the design. Along with technical detailing, major efforts have been put to make the building with sensitive details that make a friendly environment for the cows to live in. There is maximum open area provided and there is a subtle transition from semi open to open space. A part of the project also includes milk processing units and office space which are designed by giving internal courtyards, making the space open to multiple uses.

Bamboo is the primary material used to make the shed. The bamboo structure is placed on steel columns. Multiple steel joints are fabricated at the junctions for making the bamboo joints efficient. The flooring is an exposed brick flooring which does not heat up and is not slippery. Jute cloth is used as a heat insulator below the tin sheets on the roof. Apart from the shed, the main walls are stone masonry as it is cost efficient and locally available in the area. Local mud plaster techniques are used for the wall.
Bamboo masons : Sonu bhai & team
Photography credits : Umang Shah photography
Drone photography credits : Prerak Shah