Programme Development
The hamlet of Ganeshpura being one of the most impoverished settlements of Soda village has been economically weak and not self-sufficient. Lack of opportunities for work compels the locals to indulge in anti-social activities that allows them quick money; inevitably creating a culturally hostile environment for the locals.

The project envisions to act as a community space for the local to rejuvenate a sense of ownership towards their culturally rich heritage. The multifunctional space encapsulates itself around an existing shrine and serves as a space for social gatherings such as marriages, rituals, festivities, etc. The centre also encourages professionals to conduct courses imparting skill development, health awareness and adult literacy programmes apart from the regular temple related activities. It is designed keeping in mind the socio-political atmosphere of the hamlet; encouraging activities that do not reckon with the social evils of the society. This being the primary motive, the design is developed around an existing shrine; reassuring the sanctity and the ownership of the space. The proposal strives to demonstrate how sensitive programming along with a space built around the ethos of mutual respect can act as a catalyst in accelerating socio-cultural growth of the people while equipping them to lead a self empowered life.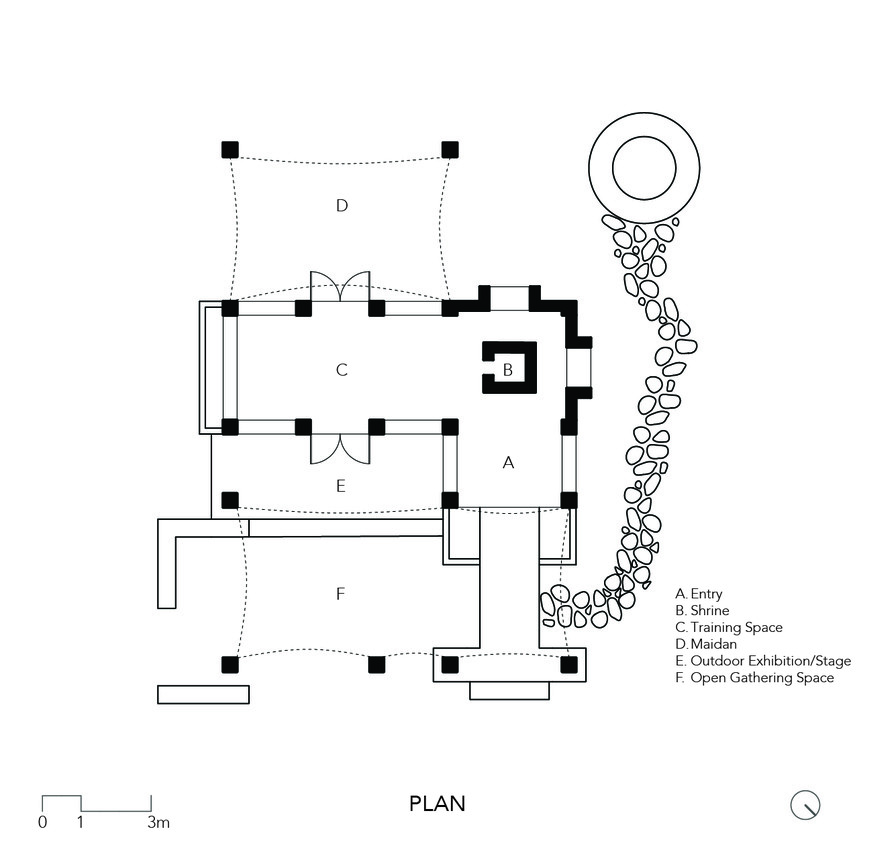 Site and Space
The site is situated in Ganeshpura, a small hamlet in Soda Village. It is at a 2km distance from the main Soda village centre. There are two communities living in Ganeshpura- Banjaras and Bawariyas. The site is a shrine located in the heart of Ganeshpura, which is lying abandoned with an existing natural pond beside it. The project mainly has two components. The first is the semi open space around the shrine which could be used for temple activities or as a skill training centre, and the open space around it which could be used for larger public or social gatherings/events. The semi open space is covered with a brick vault and dome. The idea is to impart the skill of brick vaults and domes to the people of the village. The process of construction would actively involve the participation of the people of the village. The plinths extend beyond the built space to make buffer spaces where people can sit around. There are some columns and a frame which spills over from the built space. People could cover it with temporary materials for holding family functions/ marriages/ festivals etc. The formwork used for construction of the vaults will be then given to the panchayat. The panchayat will encourage people to construct vaults as roofs instead of RCC slabs by providing the ready formwork. The vaults will reduce the usage of Cement Concrete and Steel, making it a much more ecological and viable way forward.